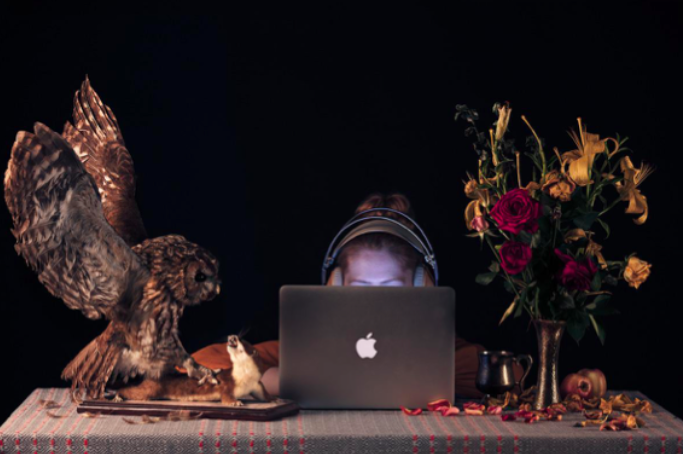 A work of ritual music-theatre for choir and string quartet by David T Little, exploring the nature of power in western civilization through its connection to eating and food.
We would rather not believe that we benefit from the suffering of others, but we all do. Society is built on the portioning of pain: those of greater means are able to suffer less, paying others to suffer in their place. One might even argue that this portioning is a basic principle of western civilization; that it has seeped into the groundwater and nourished the roots of every nation, every empire, and each historic period. How complicit are we each in this exploitation? That is the question that SIN-EATER will pose to its audience. With a libretto mined from the menus of kings, the satire of Swift, the doctrines of Holy Communion, the lore of the sin-eater, among many other sources (see list below), this evening-length work of ritual music-theatre will be cast in four parts:
Prologue: Tell Me What You Eat, will set a famous aphorism by the French lawyer and gourmand Jean Anthelme Brillat-Savarin (trans. M.F.K. Fisher): "Tell me what you eat, and I shall tell you what you are." Through repetition, this phrase will gradually transform into a modified version, "tell me whom you consume and I will tell you who you are," making it speak not only of food, but also of the nature of power and exploitation within society. Through the juxtaposition of these texts, this movement will establish that the libretto in SIN-EATER should be understood to have layers of meaning, as texts will gradually divulge their more pointed subtexts, and that the work itself will have a cumulative effect, as ideas are presented and recontextualized.
Part I. Le Grand-Couvert, will intersperse treatises on cooking and food science, passages from Swift's A Modest Proposal, described above, and menus from Le Grand-Couvert,the grand banquets of the court of Louis XIV, in which spectators observed the king eat a grotesquely extravagant twenty-course meal (including edible candles). It was a level of dining which those in attendance could never afford, and which served as an indication of the power and importance of the monarchy. This celebration of absolute monarchical power, however, would become an albatross around its neck over the next half-century, as the lower classes rose and seized control through the French Revolution.
Part II. Sin-Eaters, will explore the tradition of sin-eating, described above. Anthropological accounts of this historical Welsh practice will be interspersed with accounts of workers who might be considered modern-day sin-eaters: first responders, essential workers in medicine and food processing, COVID-19 morgue truck workers, soldiers, and social media content moderators, among others. Many in these jobs experience dangerous or difficult working conditions and face some form of lasting trauma from their work to keep us safe, healthy, fed, or blissfully unaware of the dark forces always around us. They engage in what author Eyal Press refers to as "dirty work," and as James Baldwin notes, "The powerless must do their own dirty work. The powerful have it done for them." Many of us are far more powerful in this context than we realize or care to admit, as this work is done on our behalf.
Part III. Eucharist –a meditation on metaphorical cannibalism, this movement will explore the common historic origins of sin-eating and Holy Communion, juxtaposed with passages from the Catholic doctrine of transubstantiation. The Catholic Church was the place where I first engaged in "acceptable" cannibalism through the Eucharist. It is also the institution that first taught me about power and exploitation, through both its historic and modern practices. In its staging, this final movement will seek to include the audience in a ritual that reveals their own complicity within systems of oppression that have changed very little over the centuries.
Composed for 24 voices and string quartet, SIN-EATER will receive its world premiere in September 2023 in Philadelphia, performed by The Crossing and Ragazze Quartet, in a ritual-based production staged by Dutch director Jorinde Keesmaat. Both immersive and presentational, this production will be designed to be flexible, enabling performances at a wide range of venues. Followings its premiere, the production will travel to Europe for several engagements, including at the Muziekgebouw aan 't IJ in Amsterdam, and as part of the November Music festival in 's-Hertogenbosch.