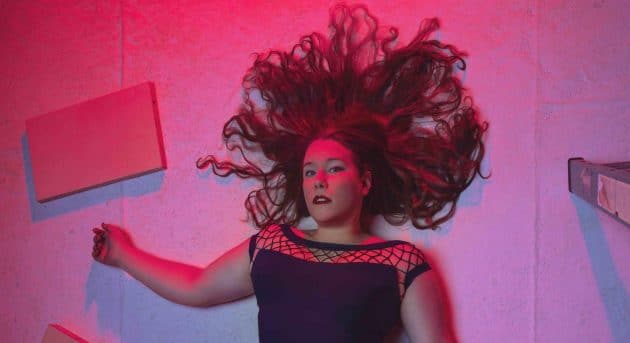 The World's Wife is a chamber opera for singer and string quartet by British composer Tom Green. The libretto is by poet Carol Ann Duffy. Ragazze Quartet will share the stage with transgender opera singer Lucia Lucas, directed by Jorinde Keesmaat.
The World's Wife is a collection of poems by Carol Ann Duffy and reflects on stories, historical events and myths about famous men, told by the women behind these men. Tom Green used several of these poems to write a chamber opera for soprano, string quartet looping station. To respond to the subject matter (how women have been written out of our shared historical and cultural narratives), Green wrote all the music using material from past female composers who I think are unduly ignored, for instance Clara Schumann, Barbara Strozzi etc.
The opera is scored for soprano and quartet and has eleven characters, all spouses of famous characters from history and myth. This goes from the hilarious Frau Freud to the very dark Queen Herod. Because Green wanted the characters to be in a kind of dialogue, all the performers use loops that they operate themselves. This lets the soprano record herself in one character, and then bring that back at some point later when she's a different character, allowing her to make duets and trios of characters. It also means some really cool quartet textures where you might have about 32 string instruments colliding.
The World's Wife premiered in the UK in a somewhat theatrical performance. Together with Dutch opera director Jorinde Keesmaat (ao Fantastic Women and Anais Nin), the Ragazze Quartet wants to bring a fully staged version of the opera. Keesmaat is intrigued by the man-woman ratio: if the woman is singing, is it her who the audience hears, or is it actually the man speaking through the woman? This tension is increased by letting the part be sung by transgender opera singer Lucia Lucas.
This rising star with 'one of the most powerful and beautiful baritone voices you could hear' also has a strong header voice and is therefore able to embody all the characters. Green is willing to adapt the score for this.
Keesmaat wants to stage it as an installation, a black box with the audience around the performers. The eleven characters will be played by all 5 players.
PREMIERE MAY 2022
PERFORMERS
Lucia Lucas – singer
Rosa Arnold – violin
Jeanita Vriens – violin
Annemijn Bergkotte – viola
Amber Docters van Leeuwen & Rebecca Wise – cello
PRESS
"[…] that rare thing nowadays, a totally successful music-theatre piece." – The Guardian **** (2023)
"[…]it is an intense theatrical experience, a physical unleashing of emotion and music."
"She [Lucas] is a powerful singer, at her best in her rich lower range but moving too in the quietly controlled upper ranges."
"As well as playing brilliantly – as soloist and as one unit – the instrumentalists become silent actors, perched a top a roof in the opening Little Red-Cap, curled up on beds of earth in Demeter."
– The Times **** (2023)
"The quartet are full actors in the drama, and when they pick up their instruments to play (which they do without scores) it feels casual and instinctive, as though they are simply using their instruments to speak along with the text delivered by Lucas."
"Lucas herself gives a tour the force performance, and Green's writing allows all of her baritone range to be explored[…]"
– Music OMH ***+ (2023)
"Lucas' performance – vocally and theatrically – is never less than mesmerising."
"The Dutch string quartet's physicality and excellent playing are a potent combination." – The Stage (2023)
"Jorinde Keesmaat's staging of Tom Green's re-worked music-theatre piece is performed with fabulously assured authority by Lucia Lucas and the Ragazze Quartet."
"There's something deliberately disorienting about a production in which the astonishing, fiercely virtuosic Ragazze Quartet refuse to sit docile behind music stands, but dance and crawl and laugh and strip off their clothes alongside Lucas at the heart of the action: a witchy conspiracy of women."
– I news **** (2023)
"Baritone and force of nature Lucia Lucas beautifully shapes female rage in The World's
Wife."
"Speakers in Carol Ann Duffy's witty, chilling, brilliant poems are women telling their version of history and mythology. They are accompanied by the Ragazze Quartet in a staging by Jorinde Keesmaat full of elegant symbolism."
– De Volkskrant (2022)
"And the carefully thoughtful interpretation is completed to perfection by the Ragazze Quartet, which is fully integrated into the act – throughout the performance there is not a music stand in sight."
– Theaterkrant (2022)
TEAM
Tom Green – composer
Jorinde Keesmaat – stage director
Sammy Van den Heuvel – stage design
Lalina Goddard – dramaturgy
Sasja Strengholt – costume
Koen Keevel – sound
Radna Berendsen – visagie & hair design
Roland Spekle – manager
Nora Hulsink – production & pr